Support
Netzlaufwerke werden nicht verbunden / GPO können nicht ausgeführt werden
Es könnte sein das gecachte Logins das Problem verursachen. Eventlog Beispiel: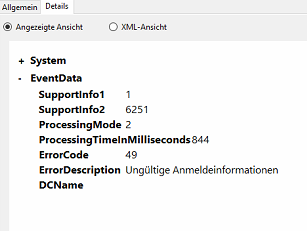 Gpupdate schlägt auch Fehl mit z.B. keine LDAP Verbindung zum Server möglich.
Die Lösung:

1.Use SysInternals PsExec to open a command prompt under the Local System account [http://technet.microsoft.com/en-us/sysinternals/bb897553]:
From an Administrator command prompt: PsExec.exe -i -s cmd.exe
2.Open the Stored User Names and Passwords app under the Local System account:
From the System account command prompt: rundll32.exe keymgr.dll, KRShowKeyMgr
3.You should now see the credentials that are cached under the Local System account. Review the list for rogue suspects, and remove them. For me, this was straightforward. There were two credentials listed: one rogue cred (from my old WHS2011 config I suspect), and a second called virtualapp/didlogical. When I reviewed the credentials on machines that were working, they only had the virtualapp/didlogical credential listed.